Motorbike routes
The Urbasa Sierra is the ideal place for enjoying motorbike or car routes due to its natural beauty, its hundreds of spectacular bends and its breathtaking steep slopes.
NAVARIDER, THE EXPERIENCE OF MOTORING IN NAVARRE
This is a project to disseminate information on sports tourism related to the motoring world (cars and motorbikes) in Navarre.
We show road routes with detailed topographies, GPS trackers (rides with grid references), ride maps, route cross sections, kilometric points, marked crossroads and summaries to print out.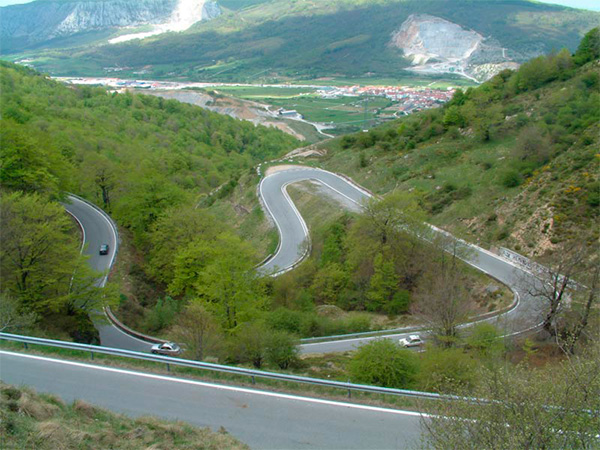 WHY IS NAVARRE THE IDEAL DESTINATION FOR MOTOR ENTHUSIASTS?
Because Navarre has 2,001 kilometres of roads made to enjoy driving, through many different settings of exceptional beauty.
Because there's a wide range of restaurants, bars and accommodation throughout Navarre, offering excellent service and hospitality, and fine cuisine based on regional produce.
Because Navarre is a land of incredible scenic diversity. In just a few kilometres, the scenery changes from the Pyrenees to the Cantabrian valleys, from Mediterranean landscapes with grapevines and olive trees to the Irati forest, from the desert-like scenery of the Bardenas Reales to the meadowlands in the valleys. All to be found in an area of just 10,500 km2.
Because Navarre is the history of a Kingdom and the entry of the Way of St James into Spain. Because Navarre is home to the world-famous fiesta: the San Fermin fiesta of Pamplona.
And because Navarre has the best circuit in the north of Spain: The Navarre Circuit (Los Arcos).